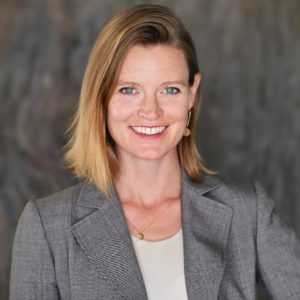 C. Genevieve Jenkins is founder and managing attorney of Excelsis Law, P.C. Prior to founding Excelsis Law, P.C., Ms. Jenkins amassed nearly a decade of experience litigating with and against some of the toughest legal professionals throughout California. She founded Excelsis Law to focus on employment and housing litigation on behalf of employees and tenants. Ms. Jenkins made tremendous sacrifices early on in her career to be able to gain expertise in these crucial areas of law that often implicate important civil rights issues.
In her employment practice, Ms. Jenkins represents employees in harassment, discrimination, retaliation, and wage-and-hour matters on an individual and class-action basis. In her housing practice, she represents tenants in civil lawsuits against landlords for issues including negligence, violations of the warranty of habitability, discrimination, and harassment.
Ms. Jenkins started her legal career as a litigator at Latham & Watkins – a highly selective corporate law firm with thousands of attorneys in offices worldwide that was founded in Los Angeles. The Firm ranked No. 1 in American Lawyer's corporate rankings in 2017.
After two-and-a-half years at Latham, Ms. Jenkins was ready to follow her passion by advocating for individuals who found themselves in dire straits. From 2013-2014, she worked in Johannesburg, South Africa, as a voluntary legal advisor at Lawyers for Human Rights and as a law clerk to South African Constitutional Court Justice Johann van der Westhuizen. The South African Constitutional Court is equivalent to the United States Supreme Court, and is highly selective in choosing its clerks.
Thereafter, Ms. Jenkins sought to pursue her passion for civil rights advocacy closer to home, and so returned to Los Angeles, where she worked for several years with two of the best public-interest law firms in Los Angeles for tenants' rights – the Eviction Defense Network and Inner City Law Center. Prior to founding Excelsis Law, Ms. Jenkins also obtained significant experience in employment litigation at two leading employee-side firms in Los Angeles.
---
Ms. Jenkins successfully represented sixteen tenants of a residential hotel in Los Angeles' Skid Row, where the landlord and his management team had harassed and assaulted vulnerable, low-income, elderly and disabled tenants, in an effort to illegally clear long-time occupants and resell it at an enormous profit. Ms. Jenkins was instrumental in the tenants' success in obtaining TROs requiring the landlord to heat the building in the winter, and to allow tenants' guests. The matter was aggressively litigated, and resolved in a private mediation just before trial.
---
Ms. Jenkins successfully represented a senior executive of a large and well-known California company. After long years of service and helping found one of the company's most important locations, he was subjected to religious discrimination and harassment by the chief executive officer. Ms. Jenkins was able to resolve the matter in a private mediation before the commencement of litigation in a manner that pleased the client and allowed him to comfortably find and move on to the next job.
---
Ms. Jenkins filed and prepared a lawsuit on behalf of eleven tenants in an illegally subdivided and negligently maintained Westlake-MacArthur Park building. When the landlord sold the building to a new owner, who sought to demolish it and build a large apartment complex, Ms. Jenkins challenged the legality of these efforts in an administrative hearing. The tenants ultimately succeeded in receiving monetary settlements from the new landlord, and, against the prior owner, obtained a jury verdict and judgment, including $1,000,000 in punitive damages.
---
In a federal case, Ms. Jenkins successfully represented a director-level female employee who was passed up for promotion several times for no apparent reason while less qualified males in the company were promoted over her or, even if they were not promoted, made more money than her. Ms. Jenkins's effective advocacy compelled the CEO of this multinational corporation to take notice of the proceedings and reach a favorable deal for the client at mediation.
---
---
Ms. Jenkins was lead counsel in a class action alleging wage theft and related Labor Code violations against a parking company that was abusing vulnerable and undocumented workers. Ms. Jenkins' clients were paid back in full, including attorneys' fees, and the Court enjoined the defendant from continuing its predatory practices.
---
---
Ms. Jenkins represented a senior-level female employee in the successful pre-litigation settlement of a matter that involved sexual battery and patterns of sexual harassment and gender bias within the upper echelons of a financial corporation.  The client was satisfied with the compensation for her emotional damages and was able to smoothly transition out of her role and find new employment.
---
---
Education
Queen Mary College, University of London, LL.M., Public International Law, merit
William & Mary Law School, J.D., law review, Moot Court
McGill University, B.A.
---
Legal Memberships & Affiliations
State Bar of California, Labor & Employment Section
Member, California Employment Lawyers Association (CELA)
Member, Consumer Attorneys Association of Los Angeles (CAALA)
Member, Los Angeles County Bar Association (LACBA)
Member, National Lawyers Guild (NLG)
Member, Tenant Lawyer Network (TLN)
---
Bar Admissions
State Bar of California
Northern District of California
Central District of California